When it comes to diapers, I always look for the best for my newborn! Thanks to
Lazada Malaysia
, I received my
Mamypoko Airfit
diapers for my baby to try.
I love the packaging! Very bright and prosperous! (I don't know why but prosperous just popped-up in my head) However, the packaging really stands out from the rest of the other diapers on the shelves at the retail floor.
I love how it fits my baby perfectly! No more tight strap marks. Breathable material as it stays dry inside out. Even the indicator if diaper is full is hard to miss. Even the design on the diaper is colorful and fun.
My son is fully breastfed and I breastfeed him on demand (direct latch). His diapers are always full! But thanks to Mamypoko Airfit, there were NO leaks overnight! Keeps my baby bums dry and the diaper really does as the it says, "Softest to the skin".
After all, a happy baby equals to a happy mommy!
You can purchase them on
Lazada Malaysia
today, I know I will since it's inconvenient for me to go out shopping with a newborn around.
Enjoy 20% discount with the code below!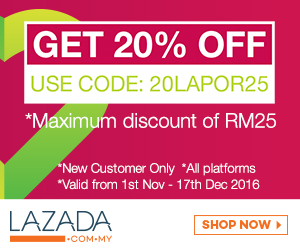 If you would like to participate in reviews like this in the future, please contact affiliate@lazada.com.my to join the Lazada Family!