Shopping from
ezbuy
is the next best thing that showed up since TaoBao came about to Malaysia.
However, as an online shopper myself and a momtreprenuer marketing products online to customers, it has been difficult to source & order for stocks via TaoBao without a "local agent" involved. Even if you're great conversing in Chinese, it's difficult to ensure your goods will be delivered as per.
I have heard stories of how shipments goes missing, product item different from picture shown, didn't arrive as per the ordered color code, items were damaged upon arrival and some delayed until no news ever. These are true stories from my friends who order shipments from China. Their advise is if you're not well-versed in Chinese and you don't have a trusted person to liaise with in China, especially someone to check and liaise with at the forwarders warehouse; Expect the unexpected everytime.
Apart from this, shipping is costly and not reasonable if you are only ordering a few items. Plus, after sales service you can just forget about it. Period.
That's how it is ordering online from TaoBao China can be. Hence a local agent is needed everytime and it comes with a price to pay.
With all the issues faced above, it makes you wanna give up shopping online from China totally!
Well, thankfully not all hope is lost.
ezbuy
came about to show us the easiest way with less hassle for someone like me who is a "banana" (Chinese but can't read or speak Chinese) to shop what I need online with total ease!
First and foremost, I love how it is mostly in English! Sign-up is so simple! There's a local customer service support ready at your call.
Variety of shipping methods with the lowest shipping rate @RM4.50/500g & No Agent Fee. Even logistics is flexible (pick-up/delivery).
After sales support is also responsive and attentive! No time wasted!
Just look at their variety available online, it's all the same like TaoBao just way more hassle free.
ezbuy
will handle the orders and deal with everything from China for you, to you!
Korean outfit from the famous "Descendents of The Sun" Korean drama!
Car storage set for my son
Cute rompers for my newborn baby!
(These are easily sold over RM50 each over in Malaysia!)
A Kitchen playset for my son too! Especially since he loves to hang out in the kitchen whenever I'm in there. Good to start them young at cooking!
They even offer "Prime" services.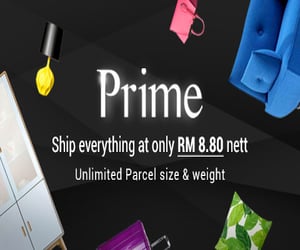 Great for online resellers like me who would wanna stock up on multiple stuffs and save on shipment.
With Prime services it makes you like a premium shopper where they even give you a breakdown summary of how much you save shopping with ezbuy Prime.
Why don't you try shopping at ezbuy now?
Here's a discount code for you :
15% off shipping fee with code "ezsp15"